Graphic Designer Mandy Douglass was a finalist in Studio 5's recent "New Contributor" contest. She shares five things to think about when creating that holiday greeting.
---
I send roughly about 100 Christmas Cards each year, and receive close to that many back. My husband and I enjoy going to the mailbox each day to see the great messages and cards that were sent directly to us, from our close friends and family.
Every year there are one or two cards that just knock my socks off! They are ones I save and remember for years and years. Today I want to help all of you think about sending a unique card, that doesn't only send a beautiful message of joy during the season, but something that will leave an impression! Let's walk through the steps of design and, in the process, help you create a Christmas card that is not only unique, but will deliver a personal touch to the receiver.
First, select your card size. Your card can be square, round, rectangle, etc. It is important to determine your size first, because this will determine how much you will end up spending on your card. Whether you buy all the supplies to make it, or have it professionally printed, things can sure add up fast. Postage can also be a big expense if you don't follow the USPS guidelines. The Post office will make additional your card doesn't fall within their guidelines. I remember two years in a row, getting a surcharge of $.17 per Christmas card I sent because of either the trinkets I placed on the cards, or the size. That was almost $20 more than I was planning on spending on my Christmas Cards. Here is some very useful information for pricing that might be helpful to you as you decide on which Christmas Card to send:
• A standard stamp is $.44 this year. That is for an envelope 1 oz or smaller, larger than 3.5″ tall x 5″wide and smaller than 6 1/8″ high and 11″ long. If it is smaller than these dimensions there is a $.20 surcharge, if it is larger, it is considered a large envelope and it is $.88 for less than 1 oz.
• If the envelope is an odd shape, such as not included in the sizes above listed, or is square, then there is a $.20 surcharge. (Making your card $.64 each to send!) Also this same surcharge will be applied if the envelope is not bendable!
• The postal office will charge more by size than weight. However if your envelope were more than 1 oz, then a surcharge would be $.17 per envelope.
• If you would like to place a brad or ribbon on your card, make sure the brad is as flat as possible and is placed in the envelope on the top left side. Otherwise you will get a $.17 surcharge. If you want to put something thicker on your card, make sure that it is under ½" thick and is an even thickness to avoid getting an additional charge.
• Any other questions can be found at usps.com under calculate postage.
When I receive a Christmas card in the mail, there are always a few things as a Graphic Designer that I either love, or strongly dislike about a card.
Choosing a Photo
You don't always need the standard family portrait. In fact I think all my family would agree, that is the most stressful part of the Christmas Card. Matching the cloths, picking the colors, a location, and a photographer is REALLY quite difficult at times. However, it doesn't need to be!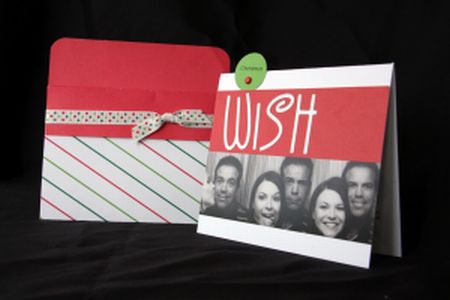 "Christmas Wish" Card
Going to a photo booth can make an impression. They can be serious or silly, but what ever you choose, it is a little unique! Your photo can convey a story about your year, announcing a new member in your family, or just give someone a good giggle … whatever you choose, try to mix it up from your traditional family portrait.
You can get multiple photos made, and it can make your card become more cost effective in the end. When choosing the layout of your card, try to fit a Wallet size photo or make a collage.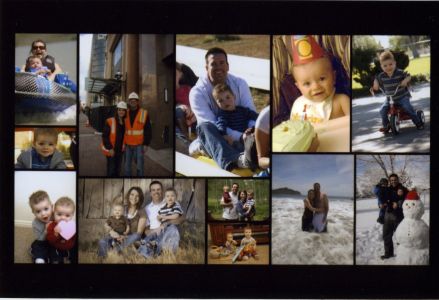 Walgreens

Photo Shop Picture Collages
Photo collages can be done one of two ways. You can easily create a simple 4″x"6 traditional photo print, with multiple photos. If you don't know how to use Photoshop, go to Walgreens.com. Upload the photos you want to collage, and the website will collate them together for you! It is VERY simple and costs about $.30 per print!
Choosing a Layout
Most of the cards I receive are from a template at Wal-mart or Costco. Although there is nothing wrong with creating a Christmas card this way, I often find that the Christmas Cards get lost in the bundle. You can still print Christmas Cards, and keep it simple, but maybe add a few elements to make it stand out above the rest.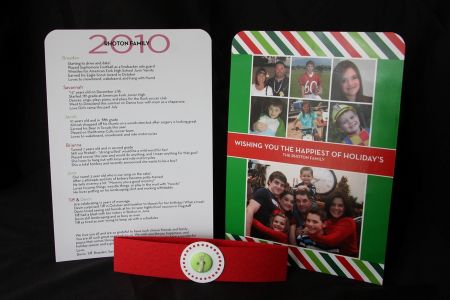 Standard Costco Card. Add a belly or cigar band. Use a Corner Rounder (One that will go through a lot of paper is the corner chomper by We R Memory Keepers).
Here are a few fun websites to get for ideas or to order your cards from:

www.minted.com
www.tinyprints.com
www.envelopments.com
Choosing a Font
Cards don't always have to have a graphic such as a snowman or Christmas tree to convey the message of Christmas. You can just use Type and color!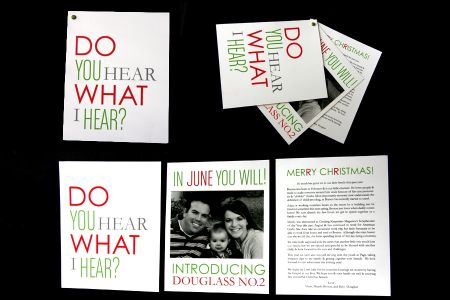 Do you hear what I hear?
This was a very simple card that conveyed a message, and the receiver definitely knew that it was a Christmas card! You don't always have to use traditional colors when creating Christmas Cards.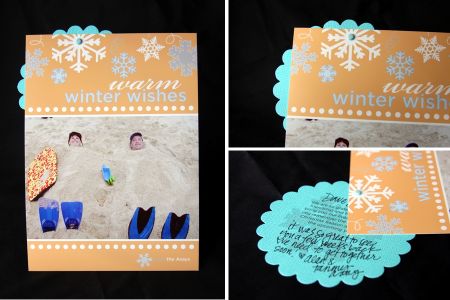 "Warm Winter Wishes"
Whether you get your photo cards made at Costco, Wal-mart, or Shutterfly. Whether you get them done professionally or make them yourself, Please be aware of a few design faux paus when it comes to type on your cards and letters.
Never use the following fonts:
-Comic Sans
-Curlz
-Papyrus
-Brush Script
They are extremely overused and not always the easiest to read. Never use a decorative font for a letter, always use a very basic font.
My favorite fonts:
-Garamond
-Gotham
-Swiss 721
-Bickham Script
-Neutraface
-Chalet
They are all clean and easy to read.
Never full justify or center a long letter of text. Keep it left justified so that it is easy for the reader to read.
Don't ever use larger than a 10 pt. font! It may seem small but most printed books and materials are printed this small, and grandma can still read them! I PROMISE!
Make it Magical
A Standard Christmas Card can become magical with a few little touches. You can purchase cheap cards like I did. I got 16 Cards in the dollar section at Target for $1!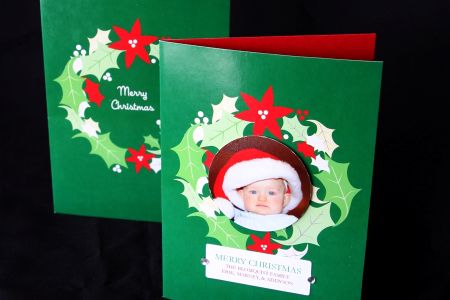 To my surprise, I found this Tiny Prints image Christmas card from a website called www.tinyprints.com that was over a $1 to print!
I was able to make this simple card that I got 16 of for $1 look really similar Merry Christmas from the Blomquists. I also found a few other cards that I decided to embellish to give a little more of a personal touch to!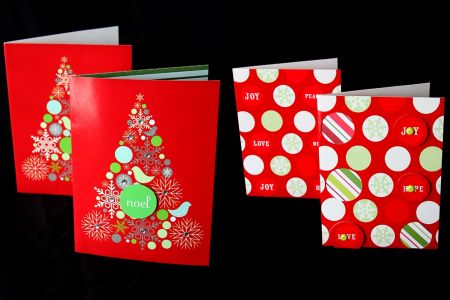 Create Texture
When you have texture on a card, it allows the receiver to use two senses, touch and site. In this way something sparks inside them and not only do they tend to remember the design more, but also it shows great effort. There are few do's and don'ts in my opinion when creating texture.
Don't EVER use glitter. I received a Christmas Card a few years back that had glitter that was not well glued down and I still find traces of glitter from that Christmas Card. It was "memorable", but not for the right reasons.
Pick something classy. Letterpress is a great way to do this. My good friend gave me permission to display a card she sent to me a few years back.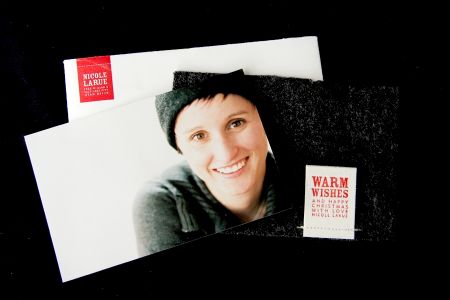 "Warm Wishes and a Happy Christmas"
This card has three different textures on it. It has the wool as the base for the card, then it has the tag that is letter pressed, and lastly she sewed on the tag. This card has had a big impression on me, not only in remembrance, but also in cool factor. Letterpress can be very expensive. I have recently found a few scrapbooking companies that have created a few ways of letter pressing.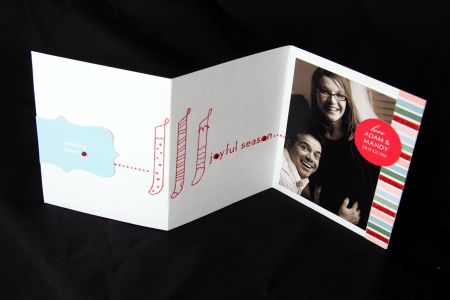 Joyful Season Stampin' up is one of those. I would not recommend this technique if you were doing more than 20 cards, but I would recommend it for a coolness factor. Be sure to visit Stampin' ups website, or look up a you tube video for how to do this technique!
(www.youtube.com/watch?v=BJpeQ7fL5mw)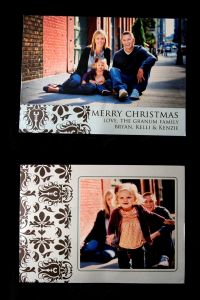 photography from Blue Lilly
Card design from Simplicity photography
This is also a photo card that was sent to me last year by a friend of mine that lives in New York City. The Card was printed on a pearlesant paper, and just gives a classy feel!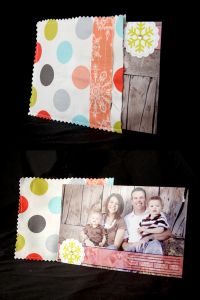 This just happens to be what I chose to be for my Christmas card this year. With the rising trend of fabric and homemade items this year, I thought this was a perfect fit. Not only do you have the texture of the fabric, but you also have the texture of the paper, and a small jewel on the snowflake.
Summary:
It is most important to send Christmas Cards. To convey a message of love to your close friends and family, but while you have a head start, think a little deeper this year and see what you can come up with. A great idea would be to gather with your friends to have a Christmas card party. This way you can ask opinions, get ideas, eat food, and enjoy time together as friends before the season gets hectic!
---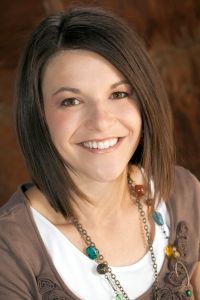 Mandy Douglass is not a stranger when it comes to crafting. Since she was a young girl, her nic-name was Martha! Graduating with a degree in Graphic Design, Mandy has used her education in design, teamed up with her years of crafting skills, as a professional in the Scrapbooking and Paper Crafting Industry. She has worked as a Scrapbook Product Designer, and is a Contibuting Editor for Creating Keepsakes magazine. Mandy also has a great love for cooking, sewing, the outdoors, and caring for her sweet husband and two boys. She is a native of Utah and currently lives in Highland. To learn more, visit:
www.mandydouglass.blogspot.com.