Dr. Heidi Regenass is a plastic surgeon at Gateway Aesthetic Institute and Laser Center who highlights her favorite power nutrients and foods and recipes to get them in your diet.
---
The process of aging occurs for a variety of reasons. Every day our skin is subjected to the ravages of the environment through exposure to the sun, pollution, cigarette smoke, poor diet and stress, among other things. Exposure to these elements causes the formation of free radicals, which damage the cells in the body.
It is no secret that proper nutrition plays a key role in maintaining a strong and healthy body–including our skin. In the last few years there has been a heightened interest in certain foods that are often referred to as power foods or super foods. These foods have been singled out for their high levels of nutrients, and for their roles in reducing the risk of many diseases and the symptoms of premature aging.
We can enhance our skin's ability to repair itself, and fortify ourselves against further damage, through the consumption of these high antioxidant power foods. Antioxidants are important because they neutralize free radicals. Free radicals damage collagen and elastin, the support structures of the skin, so that our complexion becomes dull and the skin starts to become loose and wrinkled with uneven pigmentation.
Dr. Heidi's Anti-aging cookbook contains dozens delicious and easy to prepare recipes that will help you in your fight to look gorgeous and feel wonderful.
You can buy Dr. Heidi's Anti-Aging Cookbook at Gateway Aesthetic's clinic. All proceeds go to outreach programs that help families at risk for malnutrition in Dr. Heidi's hometown in South Africa.
Dr. Heidi's Tomato ginger soup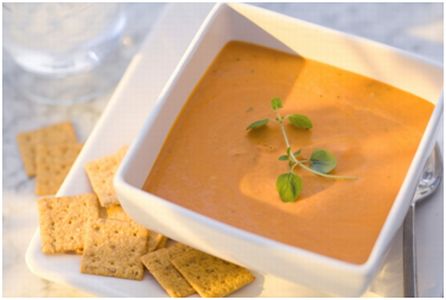 Serves 4
Ingredients
2 tbsp. extra-virgin olive oil
1 large sweet onion, chopped
2 carrots, peeled and diced
2 sticks celery, chopped
2 cloves garlic, minced
½ inch piece fresh ginger, finely
chopped
3 tsp. fennel seeds, toasted in dry
skillet for 2 min., then crushed
½ fennel bulb, chopped (save
leaves for garnish)
1 tsp. sea salt
28 oz. canned crushed tomatoes
3 cups vegetable bouillon
freshly ground black pepper
¼ cup chopped fresh cilantro
Instructions

1. Heat oil in heavy saucepan. Add onion and saute on medium heat until translucent.
2. Add carrots, celery, garlic, fresh ginger, crushed fennel seeds, fresh fennel bulb and sea salt. Simmer until soft, approxi¬mately 5-10 minutes.
3. Add tomatoes. Stir and cook briefly. Add vegetable bouillon. Bring to a boil, stirring con¬stantly. Cover and simmer for 20 minutes.
4. Place small amounts in a blender or food processor and blend until smooth. Return to saucepan. Add fresh ground pep¬per and cilantro. Stir and serve.
---
For more information, and to purchase Dr. Heidi's Anti-Aging Cookbook, you can contact Gateway Aesthetic Institute and Laser Center at www.gatewaylasercenter.com.