Ashlie Bundy from Bliss Boutique shows off some of the great items available at the boutique.
---
We are so excited about all of the fun things we have to offer for the holidays and we can't wait to share all of our fabulous finds with you this Thursday-Saturday only from 10:00-7:00!
You will be sure to find something for everyone on your list at this months boutique and of course a little something for yourself too.
Christmas just wouldn't be complete without all of our hot holiday fashions for you and your kids and this month the store will be bursting at the seams with everything you will need to celebrate the season in style…See you there!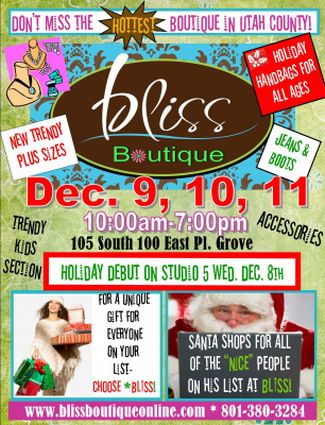 ---
For more information on the vendors featured in today's segment you can see their products in person at bliss boutique this weekend and you can also check out the following sites:
www.pearliepeacock.com
www.taylorjoelle.com
www.etsy.com
And don't forget that you can now shop select products online at www.blissboutiqueonline.com