Studio 5 Contributor Sue Neal shares some of the ways she takes advantage of the leftover pumpkin and seeds.
---
Roasted Pumpkin Seeds
Roasted pumpkin seeds are great for snacking, but also make a great garnish for salads and pasta dishes. Store in the freezer if you're not going to eat them quickly, as they can go rancid. Here are a few tips that make your roasted pumpkin seeds perfect every time!
Seeds from smaller pumpkins will always be tenderer than larger seeds, but larger seeds will have more meat on the inside.
Rinse seeds thoroughly under water. Brine in salty water (1:4 ratio kosher salt to warm water) and soak for 6 to 8 hours.
Spread on cookie sheet lined with paper towel and let dry out a bit. You can hurry this process by placing more paper towel on top and patting it.
Spread dried and soaked seeds on cookie sheet. Drizzle with olive oil (I used a combination of oil and butter) and season. Sprinkle with a coarse salt and bake at 350 for 20 – 30 minutes, but watch and taste every 10 minutes. Success depends on the size and moisture of the seed. When the outside is crispy and the inside tender you know you're ready to go.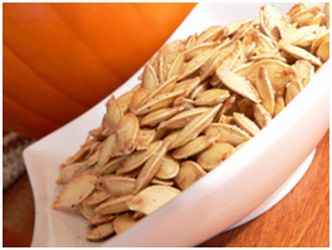 Create your own gourmet seed snacks with these tasty additions. Add these combinations after you've roasted your seeds (some spices can get bitter if roasted too long). Toss 1 cup of roasted seeds with mixtures and bake for an additional 5 minutes in a 350 oven. Let cool in pan and eat!
• Garlic Parmesan: 1 tablespoon melted butter, 1tsp. Parmesan and ½ tsp. garlic powder.
• Onion and Garlic: ½ tsp garlic powder and ½ tsp. onion powder.
• Honey Mustard: 1 tsp. brown spicy mustard and 2 tsp. honey.
• Oriental Orange Glazed: ¼ tsp. orange extract, ½ tsp. soy sauce and 2 tsp. honey.
• Cinnamon and Honey Glazed: ½ tsp. cinnamon and 2 tsp. honey.
---
You can find more of Sue's great ideas on her blog at www.sueneal.blogspot.com