One of America's leading jewelry designers Simon Ghanimian has teamed up with J. Brooks Jewelers for a special Valentine's Day event that lets you in on three of the hottest jewelry trends for your loved one.
---
Meet Simon G.
In the Armenian culture of Simon Ghanimian's childhood, young men learned that it is important to develop a skill to create, build and fix things with your hands. It is against this backdrop of old-world tradition and the pursuit of perfection that Simon G. has built one of today's leading fine jewelry brands. In his modern workshops, innovative designs are created and then developed into superbly crafted pieces of jewelry.
Each piece of jewelry is lovingly made as if it were being custom created and fashioned for an individual. Every piece that bears the Simon G. name must possess the same beauty of detail on the bottom and sides of the piece as the top. It is this pride of artisanship that sells the first piece. It is the pride of ownership that keeps the customer wanting to collect more.
Simon G notes these three Hot Trends in jewelry design.
1. Split Shanks
An increasingly popular way to create a unique, custom look is a split-shank ring that features a solitaire diamond framed by two track-like bands. The look complements both square and round gems and can be embellished even further with a halo setting and pave stones (tiny, fully cut stones placed close together on a setting) along each band.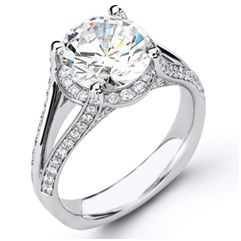 This beautiful ring features pave set diamonds that perfectly accent the center diamond and the split shank design.
2. Swirled Bands
Ropy, swirled bands are an understated but stylish way to give your ring a custom look. Try a single band or two multi-colored strands swirled together. And don't forget the wedding band – if you want to go for the stacked look, consider buying the rings as a set to ensure a perfect fit.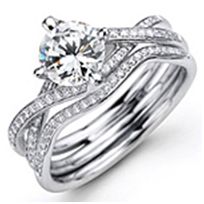 This dazzling ring, with a round brilliant center stone, has pave set diamonds along a crisscross band and is pictured with a matching wedding band.
3. Customized Jewelry
Another emerging trend for 2010 is custom designed rings, pendants and bracelets. Now many jewelers like J. Brooks Jewelers in Utah are teaming with well known jewelry designers to offer custom jewelry designs to meet this growing demand. Each individual is their own person with their own personality. Simon G prides themselves on their ability to modify any jewelry design to meet the specific requirements of the customer.

---
Simon Ghanimian, founder of Simon G. Jewelry, will be at J. Brooks Jewelers on Friday, February 12 and Saturday, February 13. For more information about the event and current specials, please visit www.jbrooksjewelers.com