Studio 5's Brooke Walker shares this story of hurt, healing and hope.

---
It's every parent's worst nightmare. And on May 18, 2008, Molly Jackson was living it.
"You really don't know what you're made of, until you're tested," she believes.
It was a bright, sunny, spring day in Park City. Molly, her husband Vic and their 2-year old daughter Lucy attended church, as usual. Not usual, was the way Lucy was fussing – upset and inconsolable. The Jackson's decided to leave a little early.
"We went into the car and I put her in her car seat," Molly recalls. "She was still a little flustered from crying. I had prepared snacks for her -apples sliced very thin. She had a full set of teeth and had eaten apples before, so I handed them back and she took one in each hand."
As Molly faced forward to start the engine, she could hear Lucy choking and immediately knew it was serious.
"It wasn't an 'I'll get this down in a second' type of a sound," she said. "She was wheezing and clearly very scared."
Molly jumped out of the car and, yelling for husband's help, she immediately began performing the Heimlich maneuver on Lucy's small frame. Her efforts were unsuccessful. A crowd had started to form; among the gathered group were a nurse and a member of the Search and Rescue Team. No one could dislodge the apple.
"Someone asked 'who has the smallest hands?" Molly recalls. "I said, 'I do." Somehow I found it in myself to reach down and try to scoop it out. But nothing was there."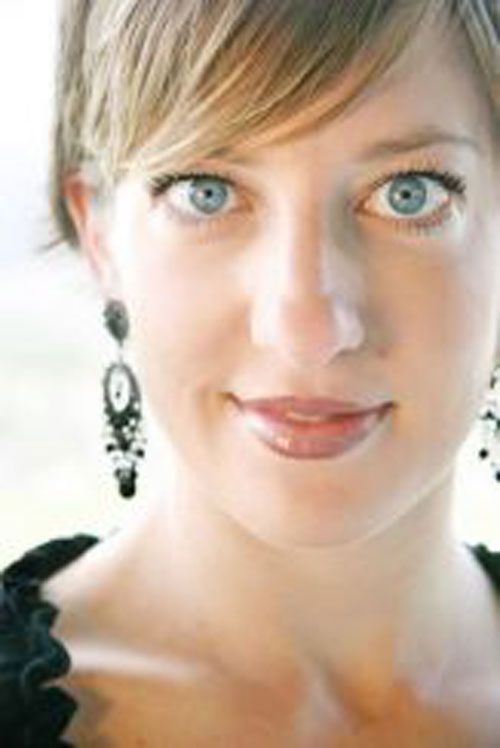 Molly Jackson
"Everyone has a voice. I shared the voice I had, and the more I shared, the stronger my voice became. You have to start where you are. "
Lucy was flown to Primary Children's Medical Center. In surgery, doctors located a small chunk of apple, lodged in Lucy's lung. The apple bit was the size of a pea.
"When the surgeon showed it to me in the little cup, I thought she was going to make it," Molly said. "It was so small. Lucy was such a fighter. She had all that spunk."
"I remember going to the cemetery three weeks after Lucy died and just wanting to claw at the earth," Molly said, "My baby's body was under the ground. I mean, that's not acceptable. It's not normal."

Thinking back on those dark days and the piercing pain she felt, Molly acknowledges it's a miracle to be where she is today.

"At times, the pain was so real, I just wanted to die," Molly explained. "I remember thinking there is no way I would ever be able to move past the pain, that I would never find joy again. But I have."

Two years after Lucy's death, Molly has found joy…and also healing. Both are gifts she shares freely. Molly wrote about her entire ordeal, and the grieving process, on her blog.

"I didn't know who was reading it, I just had to get it out," she said. "I just had to. It was one way to extract the pain."

Raw and real, her words reached out to other parent's in pain. Support began pouring in. People from all over the country expressed their condolences, their thanks and began sharing their own stories of grief and loss.

A story of hurt grew into a community of hope. And earlier this year, Molly formalized that community into a new website called "A Good Grief." It's a place for people to share stories of loss…and stories of life.

"I don't want it to be depressing, but I think hope comes out of it," Molly said. "I think so many people feel they are alone; they feel like they are the only ones who are experiencing loss."

The website also raises funds to help parents pay for their own child's headstones. It's through that purpose, and through losing Lucy that Molly says she's gained a new and beautiful perspective on life.

"I owe her so much," Molly said. "She has taught me so much and this loss and tragedy has changed me for the better."

What Helped Molly Find Her Voice After Grief

Grief and losing a loved one isn't something you really overcome. But what you have to overcome is the deep feeling of self -pity and utter loss. It is difficult to find strength to do much of anything. A part of you has died and a huge hole has been left in your life. That is where the challenge is…in deciding to live again. Overcoming that desire to "give in" can be summed up in one word—HOPE. The only way it was possible for me to decide to live fully again was through the power of hope. I think hope came to me in the following three ways:
1. Lucy. Lucy loved life. She loved to jump. She loved to dance. She loved people. She loved life enthusiastically and fully. Her spirit nudges me and encourages me to go on. I found my voice and my hope through Lucy. She wants her mom to be happy. I do it for her.

2. Support from others. I have experienced an immense outpouring of love from so many, many people. I have been astounded by the kindness of strangers. It is critical that we show love and support to our friends and neighbors who are suffering. Absolutely critical.

3. By taking things one day at a time. You face the reality and then have to say, "Ok, I'll do this one day at a time." Sometimes just one minute at a time. Get up. Take a shower. One day you actually put on your makeup. Eventually you find yourself doing things you enjoy again. I found a lot of comfort through the literal act of putting one foot in front of the other and running. It symbolized the everyday journey I will take for the rest of my life.
---
To read more about Molly's story and other inspirational stories of loss, visit www.agoodgrief.com.