Studio 5 Contributor Sue Neal shows how to make homemade Christmas Crackers.
---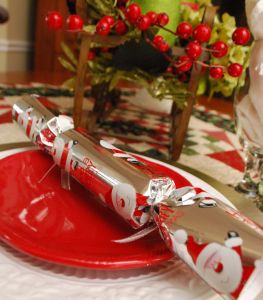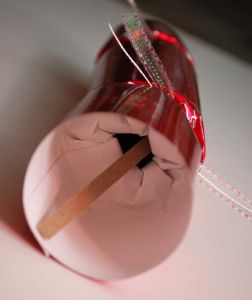 An easy, impressive and interactive Christmas Table favor is just a few steps away.
You can purchase pre-made Christmas crackers, but making them yourself is inexpensive, customized and can be a fun family activity.
What starts as a beautiful table favor ends with an 'explosive' pop and surprises for your dinner guests. To open crackers, grab each end of the cracker snap and pull apart quickly. Be sure to hold the cracker down and away from your face or anyone elses. You can also do this with two people, especially for younger children.
Fillers traditionally include a paper tissue crown and yes, you must wear the hat to get the most out of your cracker pulling experience! Something written out is usually included, like a joke, quote or personal message. Small candy or chocolate and a little gift is also added to the mix. Just be sure it fits into the tube!
You can also embellish the cracker ties with ribbon and christmas décor, like berries, holly, tags etc…
Purchasing the do-it-yourself cracker supplies makes is very easy and the tubes are strong and large. Toilet paper roll instructions are included as well, but the rolls will be smaller and not quite as sturdy.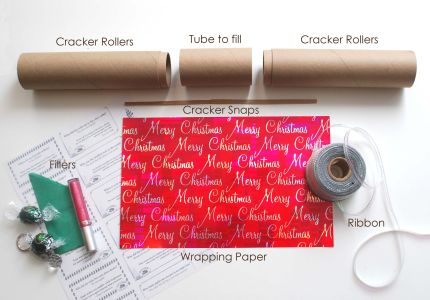 You can purchase your Do-it-yourself Christmas Cracker Supplies at
www.oldenglishcrackers.com
You'll only need to buy the cracker rollers once and just resupply your cracker tubes and snaps.
Use your own wrapping paper or buy it pre-cut.

They also supply the traditional Christmas Tissue Paper Crowns and other fillers.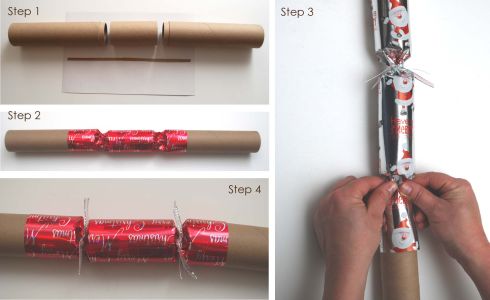 Step 1: Cut a piece of wrapping paper 12″ x 6″. Place adhesive along one end. Lay on table. Fill tube with goodies. Connect tube to cracker rollers. Lay Cracker snap next to rollers, wrap and adhere. Keep it still so goodies don't move.
Step 2: Carefully pull crackers rollers away from tube. Start to pinch the wrapping paper in between the rollers and tube. Continue to move rollers away until you can pinch the wrapping paper together.
Step 3: Tie ribbon around ends.
Step 4: Pull cracker rollers out. Optional: Add extra embellishment to ribbon.
How to make your own crackers from Toilet Paper Rolls
These aren't as large or as study as the rolls you can buy, but they work in a pinch.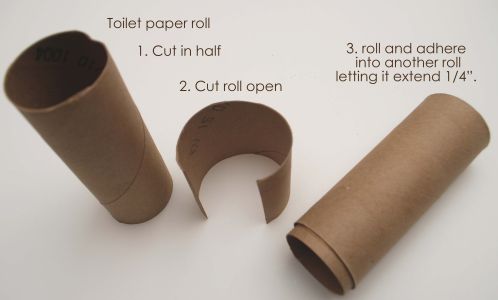 You'll need 3 toilet paper rolls to create your own cracker rollers and then one toilet paper roll for each tube.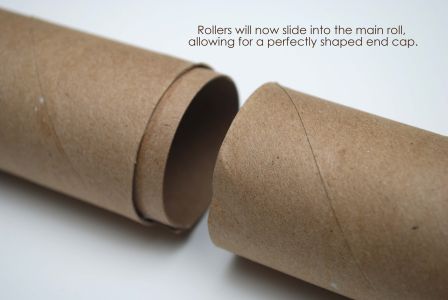 Cracker rollers enable a smooth, perfect end cap.
---
For more creative ideas, visit www.sueneal.blogspot.com