Nicole Thomas with Latter Day Brides explains some of the options.
____________________________________________________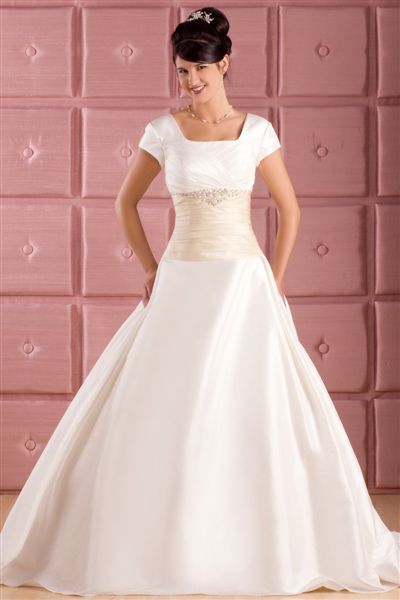 One design featured in today's show is the "Winston" in ivory with champagne, but is also available in white on white and a variety of other color combinations. LatterDayBride would like to introduce their exquisit line of bridesmaid dresses. These dresses are available in 31 to 52 colors, so your bridesmaids can match your wedding colors! Most of thenew line of bridesmaid dresses are available in both floor length and tea length and they are also available in junior sizes 4-16.
A trend that we are seeing is to choose a color for your bridesmaid dresses and then to mix up the styles. Featured on the show are three bridesmaids dresses all featured in the color Peony. They are shown in the tea length since summer weddings are fast approaching. You can see that they all tie in well together and accomplish the look and feel of a coordinating bridesmaid line. The great thing about LatterDayBride is that they have over 45 bridesmaid styles to choose from that all come in the same color line. You can pick a style that will flatter each individual bridesmaid body type and help them look their best.
"Belissimo" is a gown that is heavily adorned with beautiful lace and finished with a champagne satin sash that defines the empire waistline. The skirt features a swiss dot design and is finished with a scalloped lace hem semi-chapel trian that makes this gown a timeless classic. This gown is featured in champagne, but like most of LatterDayBrides' dresses, they can be ordered in all white as well.
Two more bridesmaid styles are also featured. These dresses are made of matte satin, are floor length and are available in over 50 colors. Another great feature of LatterDayBrides' bridesmaid line is that many of the styles come with a two-toned feature. If there is anccest color that you would like to pull into your wedding color scheme, you can do that in your bridesmaid dresses.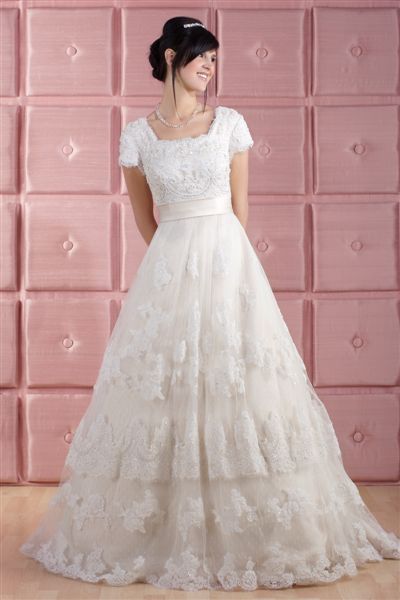 LatterDayBrides also features the "Bride" and "Bridesmaid" rhinestone t-shirts. This women's cut tee with rhinestone applique is perfect to wear on your wedding day and on your honeymoon to let everyone know you are the Bride. And the Bridesmaid tees make unique and memorable gifts for your bridal party. Available in black and white.
Finally, get a copy of LatterDayBride Magaine. This year's magazine is the fullest issue yet. With over 200 pages, the magazine features over 30 stunning and unique weddings to give you ideas. Plus it contains pages of new wedding cakes, unbelievable flowers and all sorts of articles to get you ready for your big day. Be sure to reach the article called 100 Questions to Ask Your Fiance Before It's Too Late. A must-read for all engaged couples.
---

You can buy LatterDayBride at Deseret Book, Seagull Book and at LatterDayBride.com. Also be sure to visit them at 175 West 200 South, Suite 1003 and give them a call at 363-3688