Studio 5 Contributor Neal has "nailed" down some rough and tough, handmade Valentines for Men!
---
You're the Best Catch Gift & Tag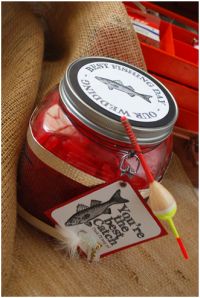 Here's a sweet treat for the fisherman!
Print out tag & jar topper. Mat with cardstock. Adhere jar topped to jar top. Attach tag to jar with wire, Mirror Hanger and brad.
Attach fly hook and bobber to jar.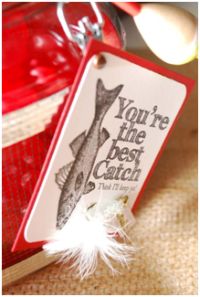 To create the mesh jar wrap, fold Aluminum tape over edges of Vent screening. Wrap and adhere around Jar (I got this one at Target).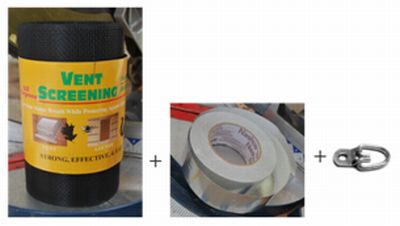 Unchain my Heart Card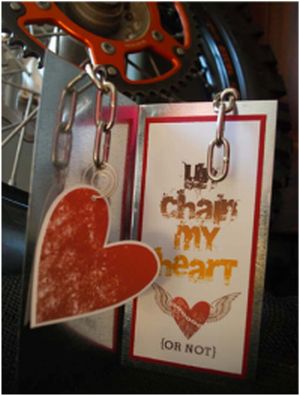 Here's a great mechanic or biker card. I love using Galvanized Step Flashing. It's like a ready made, free standing card for men. It's study enough to handle tools and in this case, the chain.
Cut a foot of chainlink at the hardware store.
Print out sentiment and heart. Trim heart and mat with white cardstock. Attach to one end of chain with wire.
Mat sentiment with Red cardstock and adhere to Right hand side of metal card.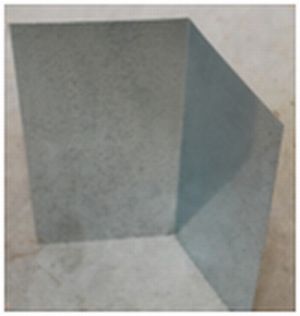 Galvanized Step Flashing
Be Mine Valentine XOXO Card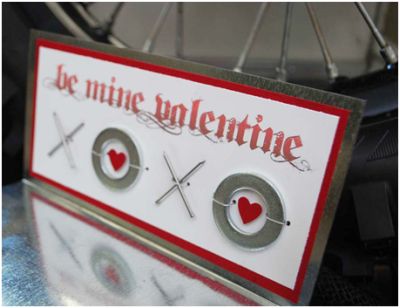 Here's another card using Step Flashing. This time it's laid on it's side.
Print out sentiment on white cardstock. Trim and mat on red cardstock.
Arrange nails (1 1/2″) and Flat Washers (3/4″) on card and mark holes with pencils. Remove nails and washers and use a ruler to make sure the holes line up.
Tap a nail in each mark with hammer to create hole. Adhere nails and washer to front of card with mini glue dots then thread thin wire through holes to secure nails and washers.
Love Beyond Measure Gift & Tags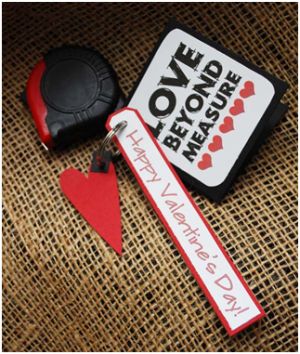 Every man needs an extra tape measure. Here's a handy key-chain sized tape just perfect to attach a little card and tags to.
Just print, mat and thread onto the key ring.
Grip on my Heart gift and Card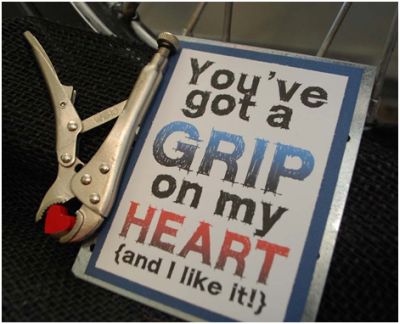 Attaching little tools to a card is pretty floppy unless you use a tie-plate.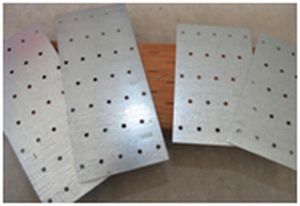 These come with handy holes to attach items, like this small wrench.
Punch 3 small hearts and layer them together with small foam squares. Cut 2 small parts of a pop-up glue dot and place on either side of heart. Place in center of wrench opening. Print sentiment, mat with blue and adhere to tie-place. Attach wrench with some wire or elastic.
Main Squeeze gift tag card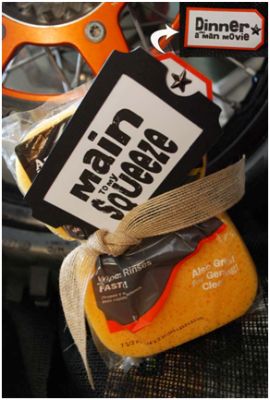 Here's a colorful and funny way to express your affection! Use a large tiling spong and 'squeeze' it in the middle with a masculine tie.
Print Sentiment and tag. Mat Tag with orange carrstock and attach a brad to make it easy to pull out.
I die-cut this ticket from the Cricut and Fabulous Finds cartridge, but you can easily create one with a trimmer and a 1″ hole punch. Create pocket by adhering two pieces together on the sides and bottom.
Grip on my Heart gift and Card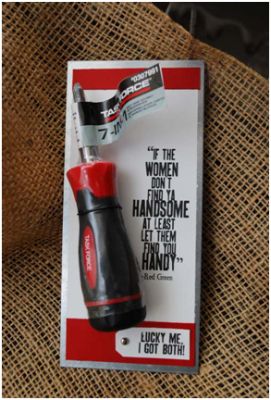 This is one my husband's favorite quotes…whenever he says it I always say "lucky me, I got both".
I used another tie-plate here to I could thread some wire through the holes to secure the screwdriver (actually it's a 7-in-1 tool). You could also come up with some funny sentiment about 'multi-tasking' for this same tool.
Next time you're in the hardware store, spend some time and meander the aisles, you'll be surprised by how many great treasures there are for man-projects. All my finds are generally very inexpensive and make unique gifts and cards for your 'man' that you just can't buy at Hallmark.
Have fun!
Don't forget! You can download either the PDF for ready to print format or the Jpeg to create most of these projects quickly and easily at myeyeqdownloads.shutterfly.com
---
You can also check out Sue's blog for more "manly" card ideas she did last year for Studio 5.
sueneal.blogspot.com