Stephanie Peterson with Utah's Mama shares with Studio 5 some great things to do this March:

---
Mama's at a Glance- March

Time often taken up with dishes, laundry, and carpooling. Don't let these fun activities and events pass you by. Take a half hour to sit down with your calendar and plan what will work with your schedule. Try doing this a week before the month so you can gather books and other supplies you'll need. You don't have to do it all, but pick things that you think your family will enjoy.
Have fun!!
Week of March 1st- 6th
March 2nd- Dr. Suess' Birthday

A celebration is in order for a genius of a man.
Start the day off by making a fun breakfast of greens eggs and ham. (My boys ask for this throughout the year!) While eating breakfast read his classic Green Eggs and Ham. Throughout the day or at bedtime read other Dr. Suess books. These are some of our favorites: Mr. Brown Can Moo! Can You? There's a Wocket in my Pocket! The Tooth Book, Horton Hears a Who! And the tongue twister Fox in Socks.
Don't forget a craft, these hats are adorable!
Make a Cat-in-the-Hat Hat (about.com)
You will need:
• Red and White

• Construction Paper

• A pencil

• Scissors Tape, glue, or a stapler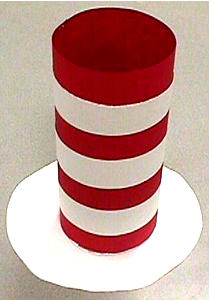 1.
Take
a piece of red construction paper that will
go around your head and glue some strips of white construction paper
onto it in
this pattern.

2.
Then
form the paper into a tube that will fit
around your head.

3.
Trace
a circle using the paper tube onto a red
or white piece of construction paper. Then draw a larger circle around
that
one, and draw tabs on the inside of the inner circle.

4.
Cut
out the outside and inside of the circle
with the tabs

5.
Attach
the tabs to the bottom of your paper tube
to make a brim for your hat.
(http://familycrafts.about.com/od/drseusscraftprojects/a/cathathat.htm)
Service: The Great American Cleanup
It's the time of the year when Keep America Beautiful has the Great American Cleanup. It's the nation's largest community improvement program. Service for this month will be picking up trash in an effort to Keep America Beautiful. Bundle up and don't forget gloves; arm each family member with a plastic bag and scour the neighborhood for garbage. You can even make a game to see who can get the most garbage.
Girl Scout cookies are being sold March 12th- 28th. Support this great program and make your tummy happy to. Here a link to where cookies will be sold.
www.gsutah.org/programs/booth_results.php?city=Salt+Lake+City&Submit=Submit
March 7th-13th
March 8th- Phun with Physics @ Anderson- Foothill City Library

Folks from the U of U Dept of Physics and Astronomy are at the library to do cool physics demonstrations for kids and families. What do balloons, bicycle wheels, and liquid nitrogen have in common? Come find out! Demonstrations are at 4 and 5 pm. http://www.slcpl.org
Family Fun Night: Culture Night with Ireland
If you're like me you want your kids to be well rounded. This means educating my kids about other cultures. Through educating them, my hope is that they'll accept everyone and not place judgment. When we have culture night I like to fix a meal from the country, provide some facts, show them on a map or globe where the country is, learn some new words and find something special. This could be a native dance, or special clothing. This month we'll learn about Ireland.
Food
Irish stew has been recognized as the national dish for at least two centuries. A poem from the early 1800s praised Irish stew for satisfying the hunger of anyone who ate it:
Then hurrah for an Irish Stew
That will stick to your belly like glue.
Bread is an important part of Irish culture. Fresh soda bread, a crusty brown bread made from whole-wheat flour and buttermilk, is a national dish of Ireland. Irish bakers don't stop with soda bread, however. They bake a wide variety of other hearty breads and cakes.
Any stew will due, so if you have a favorite use it. If not try this one
Traditional Irish Stew
Ingredients
• 4 potatoes, thinly sliced

• 4 medium onions, thinly sliced

• 6 carrots, sliced

• 1 lb. canadian bacon, chopped

• 3 lbs. lamb chops or beef for stew, 1-inch thick, trimmed, and cut into small pieces

• Salt and pepper to taste

• 2½ c. water

• 4 potatoes, halved

• Fresh parsley, finely chopped
Procedure
1. To make Irish stew, all the ingredients are assembled in layers in a large stew pot.

2. Begin with layers of sliced potatoes, onions, and carrots.

3. Top with a layer of Canadian bacon and lamb.

4. Sprinkle liberally with salt and pepper.

5. Repeat these steps until all the ingredients are used.

7. Arrange the halved potatoes on top of the stew, but not in contact with the water, so they can steam as the rest is cooking.

8. Simmer over a very low heat for about 2 hours.

9. Sprinkle liberally with the chopped parsley and serve in soup bowls.
Serve with bread.
Desserts consist of cakes and breads.
Scones
Ingredients
• 8 c. flour

• Pinch of salt

• 1/3 c. sugar

• 4 teaspoons baking powder

• 1½ sticks butter (¾ cup)

• 3 eggs

• 1¾ c. milk
Procedure
1. Preheat oven to 475°F.

2. Combine flour, salt, sugar, and baking powder in medium mixing bowl.

3. Cut butter into small cubes and add it to the flour mixture. With clean fingertips, rub the butter into the flour.

4. In a separate bowl, beat the eggs and milk together. Add to the flour-butter mixture to make a soft dough.

5. Place mixture on a floured board. Knead lightly for 3 or 4 minutes.

6. Roll out with a rolling pin to a thickness of about one inch.

7. Cut dough into 3-inch circles, using a cookie or biscuit cutter.

8. Place dough circles onto a lightly greased cookie sheet. Bake 10 to 12 minutes until golden brown.

9. Cool on a wire rack.

10. Serve, split in half, with berry jam.
Makes 18 to 20 scones.
Basic Irish Language
Phrase: Thank you

Irish: Go raibh maith agat
Pronunciation: Guh row mah aguth (row as in cow)
Phrase: You're welcome
Irish: Tá fáilte romhat
Pronunciation: Thaw foil-cheh roath
Phrase: Hello
Irish: Dia dhuit
Pronunciation: Djee-ah gwitch
Phrase: What is your name?
Irish: Cad is ainm duit?
Pronunciation: Codh is anam gwitch
Phrase: My name is Stephanie Peterson
Irish: Judith Flynn is ainm dom
Pronunciation: Stephanie Peterson is aman dhum
Phrase: How are you?
Irish: Conas tá tú?
Pronunciation: Kunas thaw thoo Phrase: I am fine
Irish: Tá me go maith
Prounciation: Thaw may guh mah


Customs

Irish dancing and music are very important to the people of Ireland. This link provides a video of music and dancing. After watching, try your hand at some dancing. http://www.yourirish.com/music-in-ireland.htm
www.youtube.com/watch?v=W22gpBv00gg

Read Irish Books

King Puck by Michael Garland; The Selfish Giant by Oscar Wilde; The Last Snake in Ireland: A Story About St. Patrick by Sheila Macgill-Callahan; This Is Ireland by M. Sasek; O'Sullivan's Stew by Ivan Robertson;
Your library can provide books with additional fact about Ireland.

March 14th-20th

Game of the Month: Pictionary

If you have young kids in your family you may not be able to play the board game Pictionary, but try this version instead. You'll need paper, pencil and timer. We don't divide into teams, but everyone is there own team. Before starting have everyone jot down objects and put them in a bowl for everyone to draw one. At our house it could be Batman, Yoda, chicken, or milk. Everyone takes a turn drawing. The little ones may need help from Mom or Dad. The person who guesses the most wins.

March 17th: St Patrick's Day

The night before St. Patrick's Day have your kids build a leprechaun trap out of Legos, Lincoln logs or boxes. Hopefully a leprechaun visited during the night and left something. The day of see how much green you can wear, goofy or not! Spray paint your hair green, paint your nails green. Check out the thrift stores for green apparel. Mom, that means you to, greet your kids in the morning in your new fancy outfit!

Read St. Patrick's Day books

That's What Leprechauns Do by Eve Bunting; St Patrick's Day in the Morning by Eve Bunting; The Luckiest Leprechaun: A Tail-Wagging Tale of Friendship by Justine Korman; It's St Patrick's Day by Rebecca Gomez

Fieldtrip: March 20th- Tube n Train @ the Heber Valley Railroad

Experience winter fun like you've never done before…combine a relaxing train ride with the rush of snow tubing on a 1,000-foot groomed hill with tow lift service! Board the Heber Valley Railroad for a scenic ride across the valley to Soldier Hollow, site of the 2002 Olympic Winter Games Nordic Events. There, you'll enjoy approximately 90 minutes of Utah's best snow tubing before returning to the train depot. Tickets are $38 Adult/Senior, $28 Child* (3-12) *Under 3 Not Allowed on Tubing Hill Rides are at 11am and 3pm. www.hebervalleyrr.org

March 21st- 27th

March 21st: 1st Day of spring

Nothing says spring like green grass; unfortunately it's still brown outside. But planting wheatgrass will give you the pick me up you need. First, choose a container

Sprouting your own wheatgrass is extremely easy. Any type of container is easy for sprouting wheatgrass. Pots that have drainage holes are the easiest to use for beginner sprouters but once you get a handle on how much water wheat sprouts require, you can sprout them in any container that is at least 3-4″ deep. I've found dollar stores to be a fantastic source of decorative containers that won't break my pocketbook.
Select a growing medium.

Once you've decided on a container, fill it to about 1″ below the top of the rim with pre-moistened potting mix.

Plant the seed


Wheat seed is the last ingredient. Purchase your wheat from a reputable source that sells food-grade organic seed that is meant for sprouting. Never use agricultural seed, especially any seed that is coated with fungicide. Wheat seeds are sometimes sold as wheat "kernels" or as "Hard Red Wheat".


Sprinkle the top of your container with wheat seed. I like to leave a little bit of space between the seeds, so that they're not touching and competing for food. Press the seed into the soil and then cover lightly with more potting mix or soil and water lightly. The soil in the container needs to be kept moist so I like to cover my containers with a clear plastic bag or clear plastic film.

In about 3-4 days, you will begin to see sprouts emerge. It's now time to move the container to a sunny location. Sunshine not only allows the young sprouts to manufacture more chlorophyll, but it helps to keep them stocky and short. Wheatgrass grown in the dark or in poorly lit areas tends to be quite pale and lanky and in no time at all, the sprouts begin to fall over.

By about day 7-10, the sprouts are the perfect height to use as a centerpiece or for Easter baskets. (http://www.gardenguides.com/527-grow-wheatgrass-centerpiece.html)
After you've planted your grass, head outside to fly kites. The perfect activity to do on the 1st day of spring!

Journaling

Have you ever wondered the way your kids see the world? Let your kids take control of the camera and take pictures of what they find interesting. This could be around the house or outside while you take a walk. The kids feel pretty cool that they get to use mama's camera.

Fieldtrip: March 27th- The Secret Garden @ The Children's Theatre

A young orphan, Mary Lennox arrives at Misselthwaite Manor. A secret inside and outside keeps the household on edge. The moors seem quiet and desolate and the strange howling at the manor is too much for Mary's curiosity. Adapted from the beloved classic story by Frances Hodgson Burnett. Tickets are $12 www.tctheatre.org

Enter to win a 4 pack of tickets on http:www.todaysmama.com/exclusives.php

March 28th- 31st

Family Cooking: Ellie's Oven Fries

Oh my heavens! This is my new favorite recipe. When the kids get home from school, let them help make these delicious fries. They are as good as McDonalds.

1. Heat the oven to 450. Heat 1 tablespoon minced garlic and 2 tablespoons canola oil together in a small saucepan over medium heat for 2 minutes. Remove the garlic from the oil with a small mesh strainer or slotted spoon. Set both the garlic and the oil aside.

2. Cut 2 large baking potatoes into 1/4-inch-thick matchsticks. In a large bowl, toss together the oil, the potatoes, and 1/2 tsp salt. Coat the baking sheet with cooking spray and spread the potatoes on it in a single layer. Bake them until they are golden and crisp, about 35 minutes, flipping them halfway through.

3. Transfer the potatoes to a serving bowl and toss them with 1 tablespoon finely chopped, fresh Italian parsley, the garlic, and salt to taste.
(www.foodnetwork.com/recipes/ellie-krieger/oven-fries-recipe/index.html)

Read Spring Books

Depending on the ages of your children, these are great lists of books about spring.
http://holidays.kaboose.com/spring/books.html
http://www2.scholastic.com/browse/article.jsp?id=11566
http://www2.scholastic.com/browse/article.jsp?id=11567

Mama's Tip:

Start saving all your recyclables (yogurt containers, water bottles, and cracker and cereal boxes) in a storage container. We have a fun activity for next month, but you'll a lot of these supplies.
---
Utah Mama's provides personal, professional and parenting resources designed to foster a greater sense of identity, empowerment and connection for women and mothers everywhere. The Handbook covers what, where and how to be the best Mama in town by collecting all the top Mama secrets. From community services and school information, to places to do and things to see-it's a book packed with information that is compiled into 25+ in-depth chapters. To order your Utah Mama's Handbook and for other great mothering information and advice visit www.UtahMama.com.