Brett Lund from Robert's Crafts shows how to make the Christmas Paper Embellished Wreath
---
Supplies:
• All paper, chipboard shapes, and buttons are from Cosmo Cricket
• Large lighted wreath
• Mod Podge
• Stories by Me wooden puzzle blocks
• Glitter
• Assorted ribbon
Instructions:
1. For each of the projects, you will start with a basic paper crafted item then you will embellish with chipboard, buttons, other paper, glitter, ribbon and such.
2. On the blocks, cut your paper to the exact size of the block. Using Mod Podge, glue the paper to the blocks. When the glue has dried, sand the edges of the blocks to get any paper that was hanging over the edges.
3. Drill a small hole in the top of the block and screw a screw eye in the top. Tie a piece of material or ribbon in the screw eye. Embellish the sides of the blocks with the chipboard shapes.
4. For the plaques, cut out the desired shape in mat board. Spray with silver spray paint. Wait until it is dry. Cut out desired shape, glue it to the board. Embellish with letters, silver ribbon, and chipboard shapes. Punch two holes in the top and thread a ½" piece of material through the top and tie it at the top.
5. For the cones, cut a piece of paper into a 6″ square. Place it flat down on a flat surface.
6. Place the compass at one corner of the square and extend the arm to the adjacent corner. Drag the compass across the square piece of paper. Cut out the shape.
7. Using double stick tape or glue, glue the cone together. Embellish it with ruffled crepe paper or tinsel.
8. For the button garland, take the buttons and thread them onto a piece of thin ribbon. Keep threading buttons on it until it is the length you want it to be.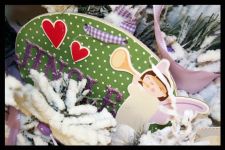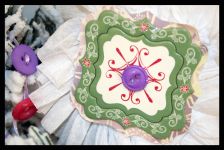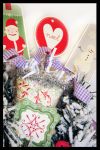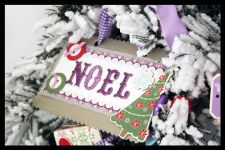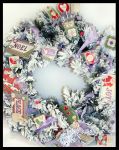 ---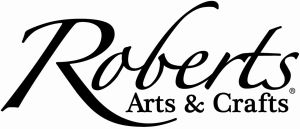 For other great craft ideas go to: www.robertscrafts.com