Studio 5 Beauty and Style Contributor Holly Stone shares the style secrets.
---
They are short. They are long. They are fitted. They are flowing. Some are ruffled. Some have pockets. Some have huge buttons. Some have floral bobbles. They come in a vast color range. And they are CHUNKY! Yes, cardigans, sweaters, cardi-coats and knit dresses are a wardrobe focus in boutique and department stores. The word "chunky" may cause you to cringe. After all, how can one look chic or slim draped in cable knits and wool adorned with ornaments? Know this:
The Chunky Knit trend was designed to stand out by sheer volume, shape and fabric. These knits are the perfect statement piece. However there are some tips to consider before you choose your ensemble for the day.
1) Know Your Figure Features
There are some ways to still enhance or minimize features. Even amidst a visually bulky trend.
• Flat chest wear front ruffles or form fitting cable knits. Fuller chest wear looser draping knits.
• Slim waistline wear belt over the sweater. Fullerwaistline wear belts under cardigan.

• High waist or shorter legs wear shorter sweaters. Low waist or longer legs wear longer sweaters.
• Slim neck, wear chunky wrapped scarves. Fuller neck wear open v-necks or thin vertical scarves.
• Average hips wear at waist or ¾ length. Full hips wear tunic length.
• Average figure wear rectangle sweater dresses. Fuller figure look for sweater dresses with an empire waist, princess seams or rushing at the waist. Both wear with patterned tights for more element of style.
Holly's Fashion Finds: Look #1
Burlington Coat Factory
• Sweater Dress $49.99
• Shirt $18.99
• Cardigan $26.99
• Patterned tights $12-19.99
2) Balance the Volume
While this style is designed to stand out, these knits and shapes can add "visual" weight. Make sure you BALANCE the bulk. Ruffles, cable knits, fabric floral elements on top should be paired with understated straight lines below. No flared pants or flowing skirts as these will only add visual bulk. Instead opt fora high-waisted pencil skirt, skinny jeans or Jeggings (leggings styled to look like denim jeans) Bulky knit sweater, thin scarf. Bulky scarf, thin knit sweater.
Holly's Fashion Finds: Look #2
Burlington Coat Factory
• Thin scarf $10
• Bulky scarf $16.99
• Sweater with embellishments $49.99
• Ruffled blouse $29.99
• Pencil skirt $35
3) Dare to Layer
Companion chunky with delicate-think lightweight, sheer, lacey, or silky. Combine either delicate under chunky or chunky under delicate. For sporty look, wear thin knit cardigan under a puffy vest. Create romance with timeless jewelry (chunky pearls), lace (delicate under) and lots of ruffles (chunky over).
Holly's Fashion Finds: Look #3
Sweetest Thingz
www.thesweetestthingz.com
416 East 12300 South
Draper, Utah
• Ruffled cardigan $34.99
• Chunky pearls $15.99
• Lace long sleeve $19.99
4) Belt It
Thick or thin, belts are in. Adding a belt over your sweater can create instant curves. The bulkier the fabrics can support bulkier belts. The thinner knits do well with slightly plainer thin belts. Scarves are great belts! They hang nicely, can be tied a variety of ways and widths, can even be adorned or bejeweled. Caution however to your own curves and apply first, the guidelines in tip #1.
Holly's Fashion Finds: Look #4
Sweetest Thingz
www.thesweetestthingz.com
416 East 12300 South
Draper, Utah
M-Sat 11-7
• Long sweater, $34.99
• Graphic Tee, $24.99
• Scarf (worn at waist), $14.99
• Brooch (worn on scarf), $14.95
---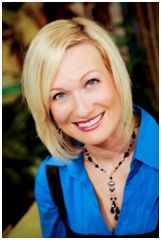 Holly Stone is no stranger to business and the beauty industry. Starting as a model at the age of 14 she decided that she preferred to be behind the scenes rather than in front of the camera. She choreographed fashion shows, selected models for events and assisted her agency with make-up.
Her skill for make-up artistry quickly became recognized and the demand for her talent launched a career that would take her all over the country. She received a bachelor's degree, and took a position as VP of Merchandising for Overstock.com. There she learned the business skills of resourcing, buying, marketing, and negotiating. She moved on to train in Los Angeles at AWARD, a leading make-up artist school in the west.
Today, with her business skills and her passion for the art of make-up, she manages a successful career as an educator and a veteran make-up artist of 16 years. She works in various media with actors/actresses, models, brides, and photographers. She is a consultant to several cosmetic distributors, spas, and salons where she teaches application and technique. She is a nationally recognized educator of cosmetic application and is a personal image consultant to people ranging from high position corporate figures to the everyday woman.
Holly is the owner of Re-Creation Studio, School of Media Make-up Artistry. For information about her classes, visit www.learntodomakeup.com.