Dr. Steve Jepson with The Utah Dermatologic & Medical Procedures Clinic shares steps to part two of "The Liquid Face Lift."
---
In September, I introduced the idea of a Liquid Facelift – using liquid injections to lift areas of facial sagging and to fill in deep facial wrinkles (http://studio5.ksl.com/?sid=7787743&nid=58). For that discussion, I focused on the lower face. You can apply similar liquid facelift techniques to the upper face.
As we age, the most common change in the upper face is the development of hollowness under the eyes and through the cheek region. Over time, the collagen and fat in that area tends to slowly disappear. This leads to that hollow, tired look. This common problem is easily remedied by injecting a liquid filler underneath the skin in those areas – essentially pumping that area back up. And restoring this lost volume in the upper face tends to have a lifting effect on the lower face as well for an overall facial lift.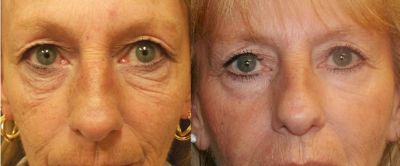 The filler that I generally use for this version of the liquid facelift is called Radiesse. Radiesse is made from a liquid type of calcium. It is therefore a very safe and natural product. Part of its effect comes from its strong tendency to stimulate new collagen production – so the product not only directly fills in the area, but it encourages your body to create new collagen, too! For this reason, Radiesse tends to last longer than most other fillers. It typically will last for a year or more. Radiesse can also be used to "fill in" other deep lines and areas of hollowness throughout the face including the deep line that runs from the nose to mouth (called the nasolabial fold), wrinkles and sagging in the lower cheek/dimple area, and the lines that can develop below the corners of the mouth.
The procedure itself is very simple – just a few strategically placed injections with a small needle. Topical numbing agents are used and the discomfort is minor. There may be a little bruising and swelling afterwards but these resolve quickly.
---
Through the end of the year, we have special pricing on all our Liquid and Non-Surgical Facelift packages for Studio 5 viewers. Call today for your free consultation!
Dr. Steven Jepson MD

The Spa at the Utah Dermatologic & Medical Procedures Clinic

154 E. Myrtle Ave (5065 S) #102 in Murray

(801) 281-0022

www.UtahLaserMD.com