Entrepreneur Angela Johnson tells us about the "Thrive No Matter What" event.
---
The "THRIVE No Matter What" event on July 13 is an empowering event. Bring your teenagers, spouse, and girl friends. This event features Lisa Nichols, one of the acclaimed teachers on the hit movie "The Secret".
"THRIVE No Matter What" is normally only $25 per person. Use coupon code STUDIO5 for $5 off. The first 10 people who register online and use coupon code STUDIO5 get Lisa's book NO Matter what for FREE (valued at $24.95).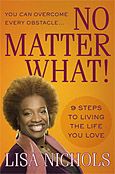 ---