Decorations to treats, Emily Hover with Pioneer Party shares ideas for how to pull off a buzz-worthy scene for your car at the neighborhood Trunk or Treat!
---
1. Pick a theme. Be creative! Be specific!
a. Use items you already have on hand. If you threw a big luau party this summer – use all the decorations to jazz up your car.

b. Your theme doesn't need to be spooky. Any theme that you would use as a costume or a birthday party can be used for a Halloween Trunk or Treat theme! (Princess castle, Dinosaurs, Bugs, Pirate, Army, etc.)

c. Think of your trunk as an extension of YOUR costume. If you are dressing up as a clown, your trunk is the circus tent.
2. Make it FUN! (think out of the "trunk!")
a. Give out TOYS or candy that follows the theme of your trunk. Beach trunk? Swedish Fish Pirate trunk? Eye Patches
b. Toys are a great alternative to candy – after all the candy is gone, the toy can still be played with! (we have hundreds of toys in packages of 10 for $1.00)
c. Play music at your trunk – a definite way to stand out and add to your theme
d. Make it a game: Have something fun to do at your trunk. Beach theme? Have the kids go under a limbo stick before getting their treat.

e. Bring your BBQ Grill: especially for those men that don't like to dress up. This gives them something useful to do. Bring wooden skewers and cut meat/veggies/etc. up to give out to the adults "trunkers."
f. Add balloons: balloons are an easy way to add a pop of color. You can fill up the empty space in your trunk to add dimension, or add a bouquet or an arch to the outside of your trunk for a definite WOW effect.
g. Have your trunk TALK: use banners/signs to send a message out and give your trunk some personality. A Witch's Kitchen trunk could say "Pick your Poison" A Pirate theme "Ahoy Maties" a Beach Theme "Treat yourself to Paradise"
3. Useful Tips:
a. Build up the inside of your trunk before trying to set up a scene. Use crates or cardboard boxes, then cover them up with a table cover or sheet.
b. Use plastic table covers to set up a backdrop or hang from the top of the trunk.
c. Grab a card table… half of it will be inside your trunk (with legs folded up) and half out. This gives your trunk a little different shape and allows your scene to stick out… also gives you more display room.
d. Don't be afraid to use extra props: bring a side table with a lamp on it… a lawn chair and umbrella… hay bales and corn stalks, etc.
Visit Pioneer Party for 3 Trunk or Treat packages created especially for Studio 5 viewers:

– Witch's Kitchen
– Pirate Treasure
– Escape to Paradise


---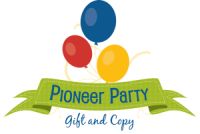 Visit our website for more details:
www.pioneerpartyandgift.com