Designer Lauren Oviatt shares tips on infusing energy into boring spaces with the use of bright color choices, exciting patterns and fresh greenery and flowers.
---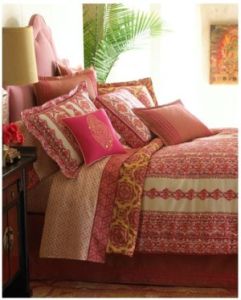 Go Graphic: Swap the tired muted floral fabrics for pops of color and graphic pattern. Not only will the contrast in color transform the space, but the movement of the pattern is also a huge part. Look for patterns with an overall bolder, larger scale.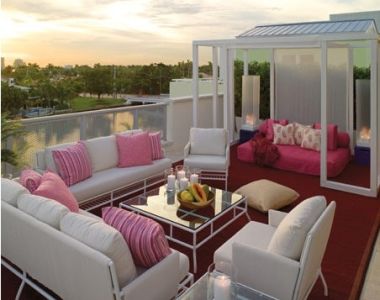 Pick One Color: Don't be intimidated thinking you have to come up with an entirely new color scheme for your room, this can be stressful and very expensive. Instead, pick your favorite color, (yes just one!) and use it in different ways throughout the room. You might place blue pillows on the sofa, a blue tray on your coffee table, and a couple new blue ceramic pieces in your bookcase.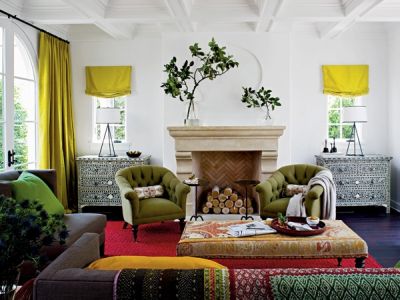 Start with Neutrals: It's okay to use the word 'neutral' here. Strip your room down to its most basic form to have a blank slate for inspiration, but don't worry if your sofa is of a certain color. No need to rush out and buy all new cream and beige furniture. Any pieces covered in solid-looking fabrics will become your neutrals as you add louder, more colorful accents. Trust me.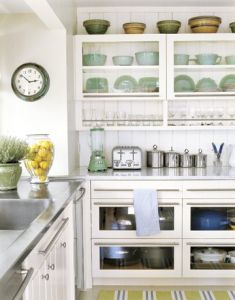 Swap Accessories: Many people can't commit to large furniture pieces or drapery in bold color… no problem! Use the simple trick of replacing black or dark accents (picture frames, urns, candlesticks, other decorative accessories) with colorful pieces and instantly you've altered the color scheme. The trick here is to pare down before you add new accessories. Make room for the new color by eliminating the visual clutter of the "blah".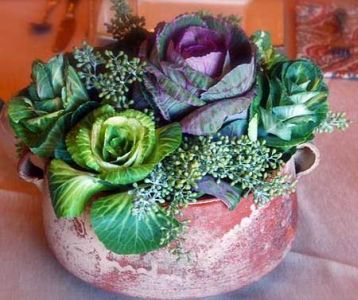 Use Nature's Great Neutral: The quickest way to bring energy into any space is by placing fresh cut flowers or other live plants around your home, simply because they're living things! Plus, there is no easier time than summer to find great-looking plants and keep them thriving. Plants instantly breathe life into even the dullest spaces. Have you ever noticed how greenery goes with everything? It truly is nature's great neutral. Use live plants and flowers liberally to achieve fresh, invigorating spaces.
---
Lauren has always had a love for interior and landscape design, floral décor, and all things beautiful! Having lived in the South and also on the west coast before settling in Utah, her design instinct is to combine traditional elements and furniture with updated style and current color palettes. She is constantly looking for ways to infuse glamour into her projects while bringing a fresh perspective and an eye for tasteful, classic design. Lauren has degrees in both Public Relations and Interior Design and worked in wedding/event planning before transitioning to residential and hospitality design.
Oviatt – Pratt is a full-service design firm in business for over 25 years, specializing in high-end residential and commercial design. The scope of their projects ranges from simple home renovations to large-scale construction projects where design is implemented from the first wall color choice to the final finishing touches. With direct access to over 90 upholstery, accessory and furniture lines, Oviatt-Pratt's designers are able to provide each client with pieces that are particular to his or her taste and style. Their retail showroom and design center is open to the public Monday through Friday.
Lauren Stimpson Oviatt
lauren@oviattpratt.com
www.oviattpratt.com
801.451.4531
Oviatt-Pratt & Associates
Interiors & Design