Studio 5 Contributor Terri Cook shares simple rules and recipes that will guarantee the guests have a good time…and you do to!
---
Prepare Ahead
Many delicious and impressive items can easily be prepared ahead of your event, hours or often even days.
These bacon wrapped dates can easily be rolled and secured with toothpicks a day or two in advance if you have room in your refrigerator for storage. They can even all be placed in a zipper bag once you have them prepared. About an hour before your event (and before you get dressed in your wicked, knock-out, killer party clothes) bake them and set aside to cool.
Bacon Wrapped Dates
Ingredients:
Pitted Dates
Center Cut Bacon
Toothpicks
Method:
Cut uncooked bacon into strips just long enough to wrap around the center of each date.
Wrap the bacon around the date and hold in place with a toothpick.
Bake at 450 degrees on the center rack of oven turning one time after 5 minutes.
Watch closely so they don't burn.
Should be nice crispy bacon after 7-10 minutes.
Get your guests involved.
Most people arrive at an event and are looking for an opportunity to break the ice or get involved in the action. A good host will be able to identify those early arrivals or individuals that are seeking conversation and pull them into the kitchen and give them a simple but important assignment. Even as easy as "Will you please carry this out to the table for me?" offers that person an opportunity to help out as well as break into the party…They will be very popular when they emerge from the kitchen with delicious treats! This involvement can go as far as asking them to keep an eye on an item in the oven and let you know when the edges get golden brown or even get it out of the oven at a certain point. An example of this could be these VERY easy yet impressive sweet potato fries. (You will want to hide the package in your outdoor trashcan because they are delish and you can just smile and say "Thank you" when they are the hit of the party.)
Sweet Potato Fries
Shhhhh! Buy this bag in the freezer section of your grocery store and bake according to directions on a cookie sheet then sprinkle with sea salt.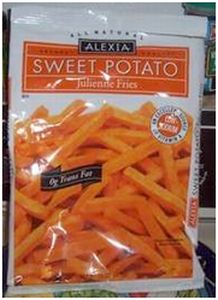 A fun way to serve them is in cones made of fun scrapbooking paper or parchment paper tied with a ribbon and secured with hot glue or stapled into an easy hand-held carrier that requires nothing but a napkin.
Have some things on hand.
There are certain things I use in my everyday cooking that have become the "go-to" item for quick help when guest suddenly stop by. One of those items is Good Seasons Italian dressing. This dressing stays good in your refrigerator for a long time so make some up and have it on hand for everything from a great marinade for chicken to traditional dressing for a salad to a dip for a crusty bread with grated parmesan cheese, OR, when entertaining, try these great little items: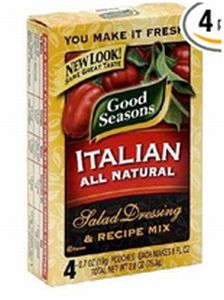 (I do have a twist for this. Make it with balsamic vinegar and olive oil rather than the traditional recipe on the box. )
Caprice Appetizer
Ingredients:
Short skewers
Fresh Basil Leaves
Fresh Grape Tomatoes
Fresh Mozzarella Cheese in Water
Italian Seasons Salad Dressing (mixed according to directions but substituting balsamic vinegar and olive oil for the vinegar and oil portions.)
Method:
Snip basil into strips

Load skewer with alternating tomato basil and cheese until desired amount is achieved then drizzle with balsamic-based Italian Seasons Dressing.
Serve Chilled
Let People Serve Themselves
Your guests generally don't expect you to wait on them. They came to visit you, right? I love to have a bag of ice in my outdoor freezer (this time of year that means my deck!). It's easy to grab a variety of drinks, fill an ice bucket with drinks and ice and set it out for your guests to help themselves. They will feel more at home this way and they can get refills as desired. When beverages are handled this way, cups or glasses are optional but if you are having them I recommend an ice bucket full of ice separate from the drink bucket.
A little secret I've learned about arranging drinks in a bucket is to use some crumpled cellophane in the bottom, place the drinks where you want them then add the ice all around the drinks.