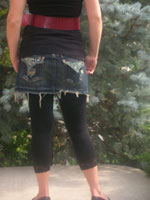 AVOID THE "MEGA TREND" LOOK

This happens when a woman combines everything the season has to offer at one time. Trends are fun because they keep you on your toes and give you something to look forward to. That's what's so exciting about fashion…it's always changing. But you don't want to be too 'trendy' and overdo the clothes for the moment. Trends are best combined with classic looks.
Here you see a super-short jean skirt with jewel studded pockets, leggings, and a belt at the waist.
A better solution: If you're going to go for the short skirt and leggings look, don't pair it
with the waist belt. It's too much. Keep the shirt simple because there's so much
going on on the bottom-half. Again, it's great to incorporate trends, just don't do
it all at once.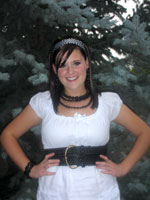 AVOID ACCESSORY OVERLOAD

A woman should never wear a necklace, big earrings and glasses at the same time. It's very distracting; people don't know where to look.
Here you're seeing a beautiful woman wearing a headband, necklace, belt at waist and bracelets.
A better solution: Keep it simple, less is more. If you're wearing big earrings, don't wear a big necklace. If you have glasses on, don't wear big earrings. Simplifying your style with accessories helps draw out your natural beauty and keeps people focused on you, not your outfit.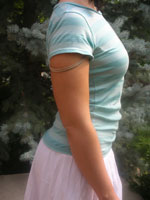 AVOID VISIBLE BRA/UNDERWEAR LINES

We've all done this and we've definitely all noticed it on other women! The panty lines under white pants or linen pants or pants that are too tight. And the classic bra strap falling down the shoulder.
A better solution: For underwear lines, you have two options. Either bite the bullet and
wear a G-string, or find looser fitting pants.

For bras, make sure that you have a bra that fits you correctly. Most lingerie vendors will have someone who specializes in fit…so don't be embarrassed and next time you go in, ask for help. Most bra straps are adjustable, so make sure they're tightened snugly. If neither of this works, go with a bra that crosses in back.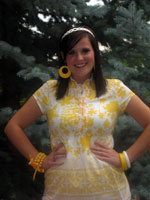 AVOID LOOKING "MATCHY-MATCHY"

Pink shoes and pink belt paired with a pink handbag equals too much information. This is an easy pitfall for many women because they believe "matching" equals being "matchy-matchy". It makes sense that the same color pink from head-to-toe goes together.
Here you're seeing yellow and white. EVERYWHERE. The shirt, the earrings,
the headband, the bangles. Cute, but it's overdone and looks girly.
A better solution: Start small and do it little by little. With accessories, for example, not
everything needs to match perfectly; it doesn't need to be a part of a set. So, if you're wearing big gold hoop earrings, don't necessarily pair them with gold
bangles and a gold bracelet. Look to pull some other colors and style differences out of your outfit. So, your hoop earrings may look great with a big thick, black bangle. Remember that when you're putting outfits together, picking out accessories.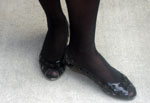 AVOID NYLONS WITH OPEN TOE SANDALS
My friend and I were discussing this the other night, because this is actually one pitfall that many 'semi-stylish' women fall into. It happens most with the nude-colored nylons…my guess is that women feel like they make them look tanner or perhaps cover hairy legs or any flaws/discolorations on their legs. The point is that if a shoe is open-toed, it's meant to be worn without socks. Another similar pitfall is having visible ped
socks with flats. Flats are so in, but again, if you're wear wearing "Ped" socks or footie-nylons, they can't show. A better solution: Get used to wearing open toed shoes, or flats, without socks. There's no way around it. If you hate the feel of bare feet in shoes, go for a closed-toe shoe.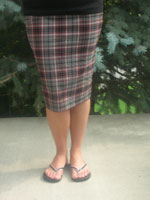 AVOID WEARING TOO SMALL A SIZE
Every woman I know wishes she was a size smaller. In fact, I have one friend who will only buy a six, even though she looks so much better in an eight. If you're holding on to those clothes from before you had kids and laying on the bed to get that zipper zipped, it's time to move on and get a bigger size.
Here you're seeing a woman wearing a plaid skirt that is too tight. You can tell because the cross lines are stretched much more at the buttock area than anywhere else.
A better solution: Buy clothing that fits. Remember, the way your clothing fits you does
more to change how you look than the color, fabric, or anything else. A good test:
if you're worried that it's too tight, it probably is.

---

Emily McCormick is with Shabby Apple, a local company that features fresh, funky fashions. For more information, visit www.shabbyapple.com.