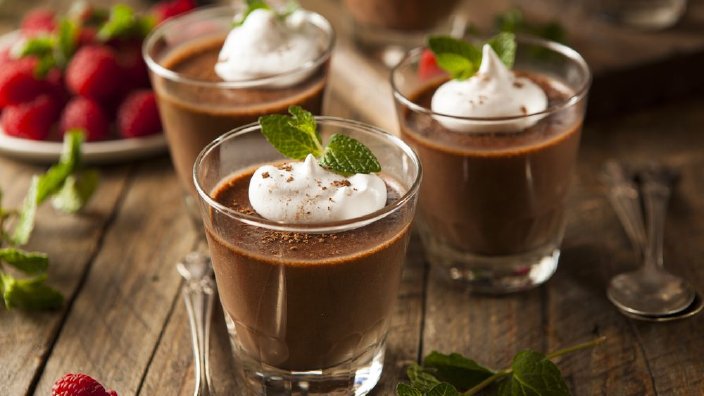 Black Velvet Mousse with Amaretto Cream
By Amy Richardson
This decadent dessert is the perfect Valentines splurge. Amy Richardson shares how to make a rich, Black Velvet Mousse.
Method:
Black Velvet Mousse
Ingredients:
3 oz

Extra Dark Chocolate pieces, 63%

1/4 cup

heavy cream

1 tbsp

Black Cocoa

1 tbsp

sugar

1 tsp

butter

1/2 tsp

vanilla

1/2 cup

heavy cream

2 tbsp

powdered sugar

1/4 tsp

vanilla
Method:
Place chocolate pieces in a medium sized bowl. Set aside. In a small saucepan, whisk together, sugar and cocoa. Whisk in 1/4 cup heavy cream, add butter, and whisk over medium heat until it just comes to a boil. Pour over chocolate and add vanilla. Let it sit for about 5 minutes, then stir until smooth. Whip 1/2 cup heavy cream, powdered sugar and vanilla, to soft peaks. Take a small amount of whipped cream and gently fold into chocolate mixture to lighten. Add remaining cream in a couple batches folding until even. Spoon into martini glasses, smoothing top to finish and refrigerate for at least 2 hours.
Amaretto Cream
Ingredients:
1/2 cup

heavy cream

2 tbsp

powdered sugar

1/4 tsp

vanilla

1/8-1/4 tsp almond extract
Method:
With an electric mixer, beat all ingredients until soft peaks. To Serve: Top mousse with a dollop of cream, and garnish with fresh raspberries and mint. Makes 2 servings. Find more recipes from Amy on Instagram @greattastebuds