You've got class parties, recitals, final projects...the end of each school year is crazy!

Emily Hover from Pioneer Party in Lehi has one solution for our stress: Teacher gift ideas you can pull together in less than five minutes!
---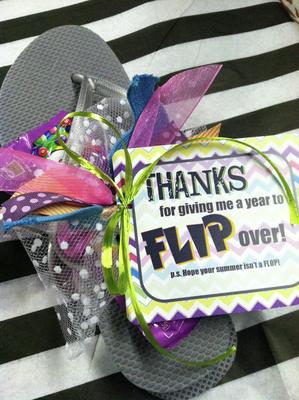 The end of the school year is always FULL of fun'"¶whether it's dance festivals, field days, choir concerts, or class parties - there's a lot going on! (That's not including soccer practice!) We know you're busy, so we are coming to the rescue with some darling gifts to tell the teachers in your life THANK YOU!!
We have all these PLUS more in our store and online so you'll have lots to choose from. Visit our Facebook page for a free download (and don't forget to check out our Graduation Party Giveaway while you're there)!
For a very POP!ular teacher. This year was amazing! (We've attached to a package of gourmet popcorn)
Because of YOU, I am a real SMARTIE! (Smarties in a kraft colored window bag'"¶ also would be darling in a good '"ėol mason jar!)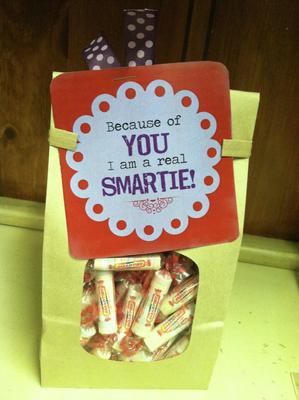 Thanks for giving me a year to FLIP over! P.S. Hope your summer isn't a FLOP! (flip flops from Old Navy tied up darling with of course, a treat!) ***This tag is available for a FREE DOWNLOAD. Check our Facebook page for more details. You can also visit our website at www.pioneerpartyandgift.com and look for our FB logo!
You deserve a BREAK! Thanks for being such a great teacher! (2 Reeses Fast Break candybars)
See you later ALLIGATOR! Thanks for a great year! (A simple alligator graphic makes this card adorable! We've attached to a simple bag filled with treats.)
Thanks for making me one SMART COOKIE! Attach to Oreos, Chips Ahoy or some gourmet cookies!
I'm SODA-lighted that you were my teacher this year! Love, (sign name!) A simple soda pop (or a 6 pack!) and candybar will make this an inexpensive yet still unique gift!
Teacher, you're a PEACH! Thanks for a great year! (Gummy peachies!)
---