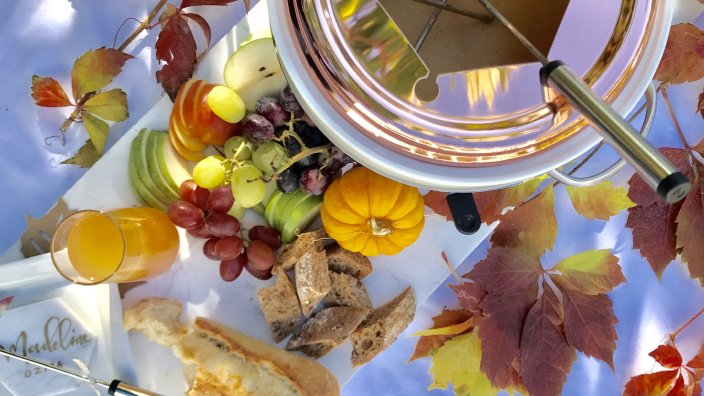 Host an Elegant Fondue Dinner Party
By Amy Richardson
This pretty menu is the perfect excuse to spend an elegant evening with friends. Amy Richardson shares all the details on this party for six.
Method:
An Autumn Evening in Vermont: Recipes
Ingredients:
Honey Cider, Vermont Cheddar Cheese Fondue*
Fruit:
Small apples, Honey Crisp, Gala, Granny Smith, or other firm apples, sliced
Small pears, Red, Anjou, and Bartlett, sliced
Seedless, Black, Red, and Green Grapes
Meat:
Honey Maple Ham, in pieces
Chicken Apple sausages, warmed and sliced
Assorted Artisan Breads:
Sweet Potato and Pecan, Rosemary Olive Oil, cut into pieces and lightly toasted. Tear away french baguettes.
Drinks:
Sparkling Spiced Cider, R.W. Knudsen
Desserts:
Maple Sugar Pastry Straws*
Dark Chocolate, Sea Salt Caramel, Creme Brûlée!*
Apple Pie Spice, White Chocolate Pizzelle Cookies*
Method:
*Additional recipes can be found on Amy's website www.greattastebuds.wordpress.com.
Product Info
Method:
Swissmar Lausanne Copper Fondue Pot: Crate and Barrel: $120.00 m.crateandbarrel.com Bed Bath and Beyond: Click here to find it at Bed Bath and Beyond. Marble slabs and tile: Contempo SLC 3732 South 300 West Salt Lake City, UT 84115