Sweet and Savory Thanksgiving Side Dishes
November 21, 2016
By: Karen Mangum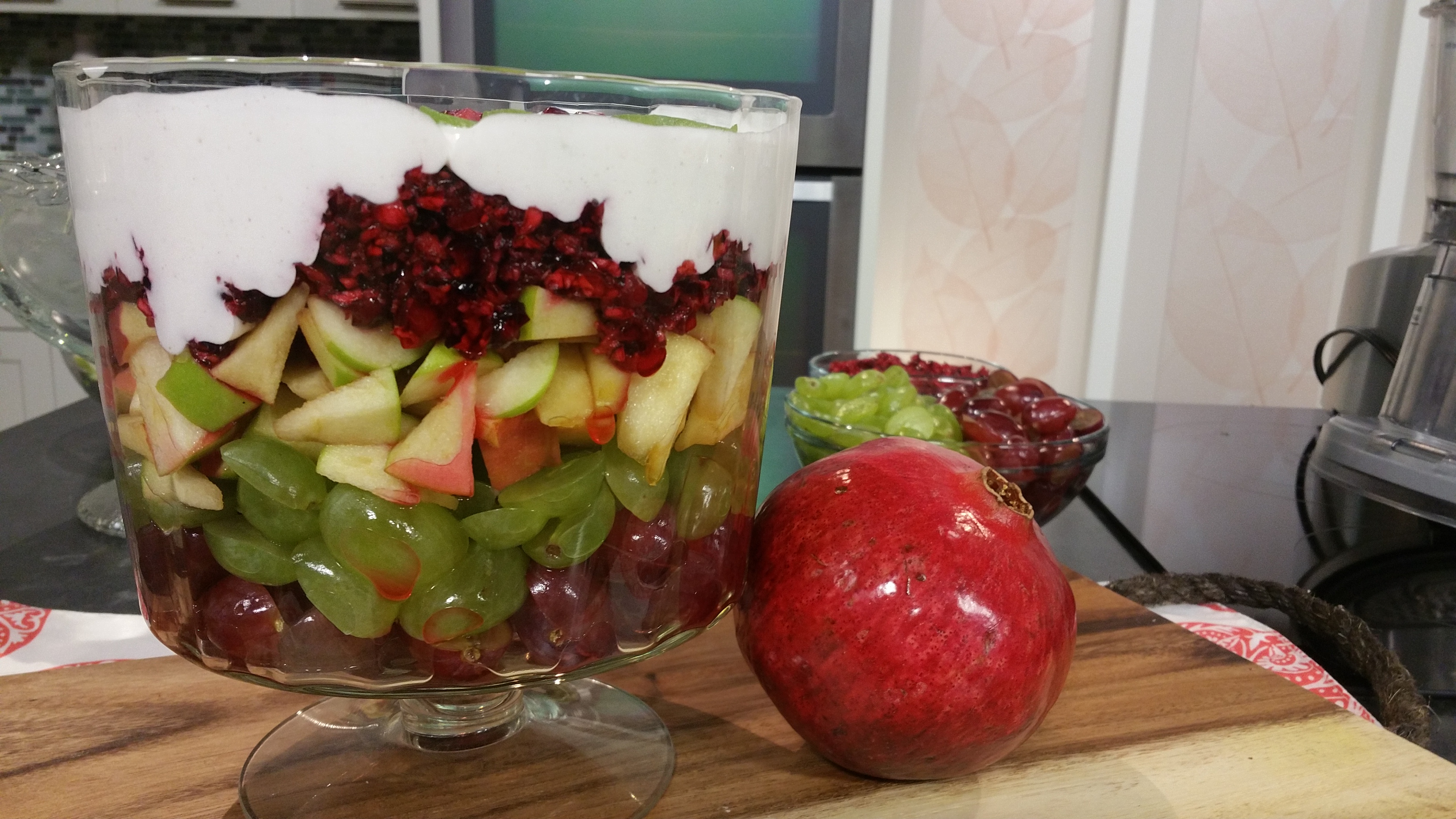 Holiday Cranberry Salad
Ingredients:
1 (12-ounce) package fresh or frozen cranberries
1 cup sugar
1/2 pound each green and red seedless grapes, halved
1 cup each cubed Red Delicious and Granny Smith apple (or other varieties of your choice)
1 cup nondairy light whipped topping
1 cup light vanilla Greek yogurt (I like Dannon Light 'n Fit)
2 Tbsp cinnamon-sugar (combine 1 1/2 Tbsp sugar with 2 tsp cinnamon)
1/2 cup sliced kiwi fruit
1/4 cup pomegranate seeds
Method:
Rinse cranberries under water. Place cranberries in a container of a food processor fitted with a metal blade. Cover and process until coarsely chopped. Transfer cranberries to a medium bowl. Add sugar, stirring to coat the cranberries. Cover and chill for at least 8 hours. Place cranberries in a strainer and place over a small bowl for at least 1 hour to let liquid drain. Discard liquid. Combine or layer grapes, apples and drained cranberries in a glass bowl. Combine whipped topping, yogurt and cinnamon-sugar in a small bowl. Spread over layered fruit. Top with sliced kiwi and pomegranate seeds. Chill until ready to serve.
Lemon Dressing
Ingredients:
Zest of 2 lemons
1/4 cup fresh lemon juice (about 2 lemons)
1/3 cup olive oil
2 tsp agave nectar
2 cloves garlic
1/2 tsp oregano
1/4 tsp sea salt
Roasted Butternut Squash, Brown Rice and Quinoa Arugula Salad
Ingredients:
1/2 cup uncooked brown rice
1/2 cup uncooked red quinoa, rinsed and drained
1 medium butternut squash, peeled and cubed small (about 2-3 cups. I buy pre-cut cubes at Costco)
1 Tbsp olive oil
1 tsp chili powder
1/2 tsp each sea salt and freshly ground black pepper
3 cups arugula
1/2 cup cashew pieces
Method:
Cook the brown rice and quinoa according to package directions. (I cook them both together in a rice cooker with 2 cups water.) Meanwhile, make the lemon dressing by placing all the dressing ingredients in a container of a food processor fitted with a metal blade. Cover and process until well blended. When the quinoa and rice is done, add about 1/4 cup of the dressing and stir to combine; cover and refrigerate. Preheat the oven to 350 degrees F. Place the butternut squash cubes on a baking sheet. Drizzle with oil and sprinkle with chili powder, salt and pepper, tossing to combine. Bake for 20-25 minutes or until golden brown, stirring occasionally to cook evenly. Remove from oven and allow to cool. Toss the arugula, brown rice, quinoa, cashews, butternut squash and remaining dressing together. Serve warm or cold. Visit Karen on Instagram!
@insidekarenskitchen